Travel
Shimla to Kalka toy train Booking in Easy Steps.
A well-liked method of getting to Shimla, a well-known tourist destination, is by taking the Shimla to Kalka toy train in Himachal Pradesh. It is under the Ambala Division of Northern Railway. The railway, which was finished in 1903, offers one of India's most beautiful train rides. It travels 96 km (60 miles) and passes through 20 stations, 103 tunnels, 800 bridges, and an astounding 900 turns. The Kalka-Shimla railway was included in the alpine railroads of India World Heritage Site by UNESCO on July 8, 2008. The railway trip between Kalka and Shimla has been more convenient over time. The introduction of luxurious coaches and trains will enhance the KLk-SML rail ride.
How to Get There?
By Air:
Jubarhati is the closest airport, which is approximately 23 kilometers from the town. Jubbarhatti is served by frequent flights to Chandigarh and Delhi. To get to Shimla, passengers can easily take a taxi from the airport or request a transfer from their hotel to the airport.
By Bus :
Shimla is connected to the major cities in North India by a number of bus services, some of which are operated by private companies and include buses operated by the Himachal Road Transport Corporation. Chandigarh is 117 kilometers away, Manali is 260 kilometers away, and Delhi is 343 kilometers away. From ISBT Kashmiri Gate, you can board a luxury bus with air conditioning for the night if you are coming from Delhi. Before making a reservation, you can check the bus schedule online to see if it runs in the morning or late at night.
By Train: 
A narrow-gauge rail track connects Shimla's tiny railway station to Kalka and is just one kilometer from the town's center. The well-known Shimla toy train travels 96 kilometers between Kalka and Shimla in approximately 7 hours. In turn, Kalka is the closest rail head, and regular trains connect it to Chandigarh and Delhi. You can take the Kalka Shatabdi, which travels from Chandigarh to Kalka Railway Station via New Delhi Station.
By Road: 
From Delhi, take the outer Ring Road in the direction of GT Karnal Road, then turn right onto NH 1. Leave NH 1 once you get to Ambala and take NH 22 in the direction of Kalka. Continue on the same highway toward Solan and Shimla. Depending on traffic, the journey usually takes six to seven hours.
Train Charter Reservation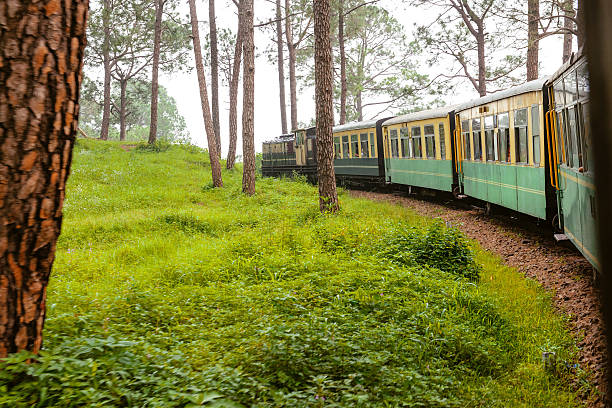 Rush to Shimla in the summer or winter to avoid the heat or to see the mountains blanketed with snow. There are 102 tunnels, numerous arch bridges, and several attractive stations along the five and a half-hour narrow gauge (2.6 feet) route from Kalka to Shimla, including Koti, Dharampur, Barog, Salogra, Kandaghat, and Tara Devi.
Due to the availability of several opulent choices, including special coaches RA-100, RA-200, Jharokha, CT-12 &13, and Steam special, rail travel in this segment has increased appeal.
Self-propelled RA-100: This air-conditioned bus has a modular kitchen, a staff member, and crockery so you may live comfortably while travelling. 08 Passengers Maximum
RA-200 (SHIVALIK EXPRESS): 09 Passengers Capacity:
The CT-14 (JHAROKHA) is an air-conditioned coach with luxurious interiors and environmentally friendly exteriors. It also features balconies on both sides and a unique seating configuration. 08 Passengers Maximum
Large groups should use CT-12 and CT-13 (COMPOSITE COACH). The first narrow gauge twin vestibule coaches with particularly big windows. 22 passengers are allowed.
Services for Hop-on, Hop-off
From October 25, 2018, hop-on, hop-off services were made available on the Kalka-Shimla stretch of the rail line for the convenience of travellers, particularly tourists. This makes it easier for visitors to board or deboard at any stop along the segment with just one ticket.
The following guidelines apply to passengers travelling on the Kalka-Shimla Narrow Gauge Railway Section:
A traveller may board any coach on any train as long as there are seats available.
Subject to the scheduled stoppage of the train at the indicated station, the passenger may board or deboard any train from or at any station.
The passenger has no right to use any additional paid or value-added services while riding the train.
The price structure and duration of the ticket's validity for the hop-on hop-off services shall be as follows:
Business Line: 0171-2611160
Controlled by commerce: 9729539980
Shimla Commercial Inspector: 9805039972
A joyride railroad service
A joyride Between January and February 2017, train service between Shimla, Shoghi, and Shimla was launched as a holiday destination for travellers.
Coaches from Vistadome
Vistadome Coaches are introduced:
– Northern Train will introduce the see-through Vistadome Coach on this picturesque railway segment to increase its tourist appeal (Glass Dome). This coach has a 36-seat capacity and features a glass roof, modified windows, air conditioning, designer LED lighting, window blinds, and cushioned oak interiors. This unique Vistadome AC coach CT-15, also known as Nihaar, is the first of its kind on this part of the Kalka-Shimla Railway.
Toy Train from Kalka to Shimla: Specials, Holiday Specials, and Daily Train Information
Daily New Toy Trains From Kalka To Shimla With Vistadome Coaches, take the Him Darshan Express Indian Railways debuted the Him Darshan Express with Vistadome coaches from Kalka to Shimla on December 25, 2019. Up until December 24, 2020, this special train will run between the Kalka and Shimla stations.
The Him Darshan Express will feature upscale Vistadome AC coaches with glass roofs, allowing commuters to take in the breathtaking scenery of the Himalayas. This is a unique train on the Kalka-Shimla route that has been modified at the Kalka carriage and waggon depot. The Him Darshan Express would be the Indian Railways' first-ever train equipped with Vistadome carriages and run on a regular schedule
Feature Principal
Seven coaches total, including one first-class sitting luggage room coach (FCZLR) and six first-class AC Vistadom coaches, will make up the train.
The Vistadome coaches will have top modified windows and an air conditioning system with the new modern style.
The train has LED lighting and contemporary windows.
There will also be padded hardwood interiors for a comfortable travel in addition to the new window coverings.
There will be 15 seats available in each Vistadome coach, including five windows on each side.
There are 14 seats in the first-class coach.
The train will use the Passenger Reservation System (PRS) and numerous other online technologies to provide individual seat charter services.
Time Specifics
The one-way trip will take 5 hours and 25 minutes to accomplish.
The Him Darshan Express departs from Kalka station at 7 am and arrives in Shimla at 12:55 pm.
The train will depart Shimla for Kalka at 9.15 p.m. on the return trip.
Fare Specifics
Customers must pay 630 to take the Him Darshan Express with Vistadome coaches from Kalka to Shimla.
Additional Daily Trains from Kalka to Shimla
The following are the daily train numbers and times from Kalka to Shimla.
KLK SML Passenger Train No. 52457 left at 4:00 AM and arrived at 9:20 AM.
The Rail Motor Car Train No. 72451 left at 05:10 and arrived at 9:50.
Shivalik Deluxe Express Super Fast Express, Train No. 52451, left at 5:30 and arrived at 10:15.
Train 52453, the Kalka Shimla Mail I, II, left at six in the morning and arrived at eleven in the morning.
Holiday Special Train No. 52441, which left at 7:00 AM and arrived at 12:10 PM
The Kalka-Shimla Express/Himalayan Queen, train number 52455, left at 12:10 and arrived at 5:20.
Holiday Special II Train No. 52433 left at 12:45 and arrived at 06:10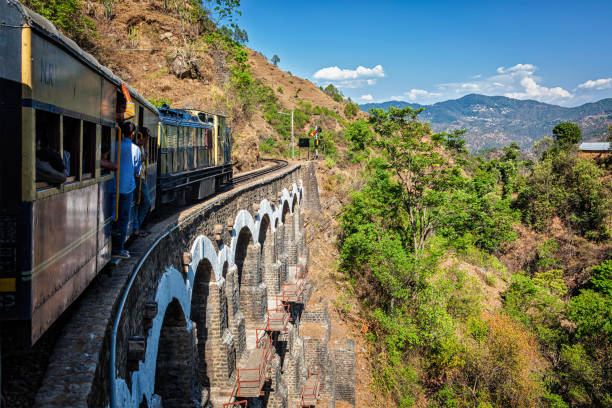 The following are the daily train numbers and schedules from Shimla to Kalka toy train Booking:
Shimla-Kalka Express/Himalayan Queen train number 52444 left at 9:25 a.m. and arrived at 3:20 p.m.
Holiday Special Train No. 52456 left at 10:35 am and arrived at 4:10 pm
Shimla-Kalka Express, Train No. 52458, I, II, left at 2:25 and arrived at 8:10
Holiday Special Train No. 52442 left at 3:50 and arrived at 9:10 in the evening.
At 04:25 and 09:35, the Rail Motor Car, Train No. 72452, left the station.
Shivalik Deluxe Super fast Express, train number 52452, left at 5:40 and arrived at 10:25.
Shimla-Kalka Mail I, II, Train No. 52454, left at 6:15 and arrived at 11:20.
Special Holiday Trains During Busy Times: Seasonal holiday specials are offered from May 1 through July 15, September 15 through October 30, and December 15 through January 15. The New – Chandigarh – Kalka Himalayan Queen Express is connected with the Rail Motor Car.
The Howrah-Delhi-Kalka Mail can be connected to via the Shatabdi-type Shivalik Deluxe Express. On both the outbound and return trips, breakfast and supper are complimentary.
The upcoming Christmas special trains are listed below.
Train Number 253 leaves Kalka at 6:00 and arrives in Shimla at 11:00.
Leaving Shimla at 9:25 and arriving in Kalka at 15:15 is train number 258.
Leaving Kalka at 12:30 and arriving in Shimla at 18:35 is train number 257.
Leaving Shimla at 15:50 and arriving in Kalka at 21:05 is train number 254.